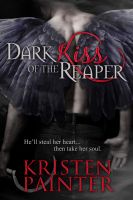 Dark Kiss of the Reaper
by Kristen Painter
Genre
: Paranormal Romance (Contemporary)
Cost
:
$3.99 (Kindle)
What I Liked
:
Well, I'm a big fan of Kristen Painter's work in general, so I had a leg up already on that one. Not a huge fan of these angel stories, so it took some getting used to. But I'm glad I stuck through it, becuase as always, I adored her hero and thought even the heroine was worth reading (I'm notoriously hard on heroines).
This is not your typical Angel of Death story. In fact, I thought the world-building that Kristen Painter accomplished in this book was unique enough that I would be able to distinguish it from other more commonplace angel stories. I loved the setup and their romantic trajectory. I thought it was well-written and engaging. While it wasn't my favorite book of hers (will anything ever live up to
Heart of Fire
? ::sigh::), I did thoroughly enjoy it and will read it again.
I will say, if you like angel stories, I think you'll really enjoy this. Kristen Painter has a lyrical voice, she does great world-building, and writes heroes very well. And the story.... it's heartbreaking and beautiful.
Book Blurb
:
He'll steal her heart, then take her soul...
The angel of death has a name: Azrael. He also has a purpose, to soothe the souls of the suffering into the peaceful passage of the after life. But in his twilight existence, Azrael has never known peace or pleasure...
Until he meets Sara, the first mortal who can see him in his Reaper form. Charming and spirited despite bearing her own burdens, she intoxicates him with the pleasures of life, even taming his brutal dark side with her fearlessness. But Azrael's new happiness is short-lived when he realizes Sara's health is fading. The bright flame of her life is about to be blown out.
And he's to blame.
~ review by
Rebecca Lynn