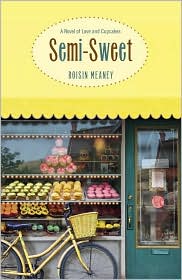 Semi-Sweet
by Roisin Meaney
Genre
: Foodie Fiction with Romantic Elements
Publisher
: Grand Central
Cost
:
$10.95
CONTEST
:
See here.
What I Liked
:
First of all, I'm a sucker for anything foodie-romance related. While this isn't really a romance novel, it is definitely a love story. I would say a'la Nicholas Sparks, only it's not depressing. Also, more interesting. But I have no affinity for Nick Sparks. Also known as The Spork. He gives love stories a bad name. This book will give them a good one.
I appreciated the uncomplicated voice of this book. It's a story that could so easily be a trainwreck, because there's so much going on, but the author pulls off an engaging, complex tale. And the food. Well, like I said, I love the food. This book is one of those novels that will entertain you, but leave you with a sense that this story could as easily have happened to you. Very unlike most foodie books I've read, but still worth the read. Well-written, and couldn't have been happier with the ending if I'd tried. Love books like this!
Book Blurb
:
Hannah Robinson is just about to open the doors to her new shop Cupcakes on the Corner when out of the blue her boyfriend Patrick announces that he's leaving her for another woman. Faced with starting a business on her own, Hannah begins to wonder if her life-long dream has just turned into a nightmare. So her best friend Adam sets his birthday as a deadline - seven months to make her shop a success, or walk away from it all. And as Hannah immerses herself in her new business, she soon discovers that she's too busy to think about Patrick and his now pregnant girlfriend ...or to notice an increasingly regular customer who has recently developed a sweet tooth for all things cupcake. But while Hannah is slowly piecing her life back together, family friend Alice's is falling apart. Her husband Tom's drinking is getting out of control and things are about to get a whole lot worse. As the seven-month milestone approaches, Hannah must decide her future. And while she's figuring out what's really important, it becomes clear to everyone that happiness in life, and in love, is all in the making.
CONTEST
I will be giving away two copies of this book on
my foodie romance blog
. Come on over and check it out!!