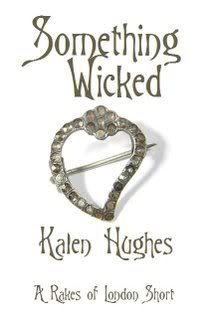 Can't wait until June for your next Kalen Hughes' Rakes Of London read? You don't have to. The always generous Kalen is offering a free 28 page short story on her website. Yep, you read that right. FREE. My favorite price.
Now, I know what you're thinking… it is free, it can't be that great. If it was that great, it'd be published in print form.
Well, banish those thoughts. The love story of the ruined Eleanor Blakely and rakish Viscount Wroxton is delicious. It is like one of those little chocolates you magically find on your pillow at higher end hotels. Short enough to gobble up during your lunch hour (I saved it for a dreaded Monday).
I love how Something Wicked starts with the two, bored out of their minds, looking for amusement, and finding it in a game of card. Both being proud, stubborn people, the betting quickly escalates out of either of their control (naughty but not too naughty).
Often shorts ignore family members. Not in this case. I love how the hero is very conscious of Eleanor's five very large brothers. I love how both are attending the card parties with their mothers (Moms are SO important, aren't they?).
No sloppy research here either. Kalen Hughes is known for her historical detail and that shines through in this short.
There are no guts or gore at all in this short. There is the potential for real violence if any of the brothers catch Wroxton with their sister. The naughtiness level is fairly tame, some heavy petting and a standard male reaction to heavy petting.
You can download Something Wicked at
http://kalenhughes.com/index.htm
.
If you love this short and you haven't read Lord Sin, well, you're in for a treat. Oh, and having read the ARC for Lord Scandal (out June 2008), if you liked Something Wicked and you liked Lord Sin, then you're going to LOVE Lord Scandal. Lord Scandal and Lord Sin are very, very, very steamy (did I mention steamy?).